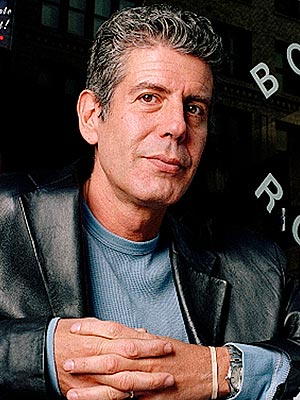 My husband and I both love good food, and both love to dream about traveling. I say "dream about" because we don't have the money for actual travel.
In any case, a great show to watch is
Anthony Bourdain: No Reservations
, on the Travel Channel. He travels all over the world, showcasing the people and their food. Bourdain's sardonic wit matches mine very often, and he is a truth-teller, which I appreciate. In the show he is often smoking, and just as often drinking/hung over. Great TV.
He is also a fabulous essayist.
The Nasty Bits
is a compilation of articles and such. I cannot comment on his
fiction
[see 7-10], as I have not yet read it. If it's anything like his essays, I'm putting them on my hold list at the library.
So congratulations to him and to his crew, as they were nominated for an
Emmy Award
for one of their episodes--Beirut. They were nominated under the "news" category--when in Beirut, a conflict broke out, so the film crew shot the whole episode about the conflict instead of the food, as they couldn't do their cook's tour anyway.
Good job, folks! I hope you win it!